Online ordering is no longer just for business to consumer transactions, every year more business to business transactions are taking place online. LinkGreen's online ordering offers your wholesale customers convenient access to your product information, available inventory and catalog. Providing your customers with convenient access to the information they need to place orders helps to foster transparency and trust with your customers.
So now that your wholesale customers can order directly from you online, what happens when they hit the submit button. LinkGreen's automated communications are sent out to your staff and customers, keeping everyone in the loop throughout the entire fulfillment process.
Read why your business should commit to online ordering
So what do they receive? This is a great question that we actually hear often. There are four common messages that get sent throughout the order fulfillment process and each of them are These automated email communications include your logo and your company contact information.
When you customer place an order on LinkGreen will provide the following communications advantages:
Order Summary
Once your customer submits an online order on LinkGreen they receive an order summary email showing the content of the order, but also with a link to view and manage that order online. This provides indicates to your customers that the order has been sent to your order desk for confirmation.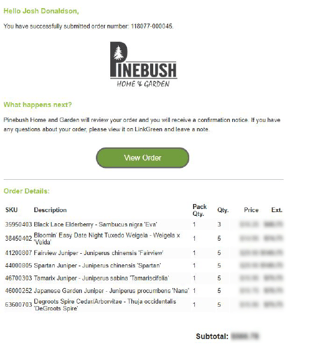 Order Confirmation
Once you have received your customers order, your order desk can continue to follow their internal confirmation process and then update the order status on LinkGreen. When you confirm the order on LinkGreen, your customer will be notified that you have received the order with a confirmation email.
Order Content Changes
If there are any substitutions or overage/shortage on the order fulfillment, you can alter the order in LinkGreen in the "Order" section. Once you've made the changes in LinkGreen, a detailed email is sent that highlights those variations and allowing your customer to leave relevant notes or responses linked to the order.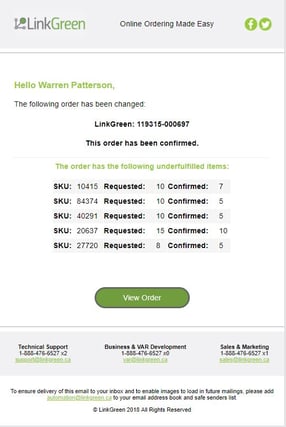 Order Status
When you update the status of the order in LinkGreen to shipped,a shipping notification is sent to your customer. This contains a link that allows the customer to print the final shipping contents, ideal for use when the order arrives at their location to verify the contents delivered.
Ordering from your catalog on LinkGreen empowers your wholesale customers to independently re-order products quickly using the previously ordered items within your online catalog. It also means they have access to all their historic orders for future years, for importing into their internal POS system, or simply to export historic information into Excel for their own purposes.
Learn more about wholesale inventory integration and automatically provide your customers with up to date inventory. LinkGreen offered multiple levels of inventory integration that works with your existing inventory management systems. By providing your customers with the option to order online you're offering them complete transparency over their order fulfillment process and giving them peace of mind and reducing the number of time-consuming phone, email and fax orders. LinkGreen keeps your customers informed so you can focus on providing with exceptional service.